Arrested on Public Land because Big Corporation Mining Volture, AKA, Rio Tinto is preparing for the pilfering, pillaging and plundering of sacred land. The people of that region have been sold out by The Corporate Whores who hold Michigan State Office; Find Them Here: Governor of Michigan

Senators of Michigan

Representives

State of Michigan Government Agencies
Around the world, indigenous communities are defending their homelands and sacred sites from mining companies with more urgency than ever. With the fictional Avatar receiving so much media attention, it's important to realize that very real battles between indigenous communities protecting sacred sites and corporations infringing on them are happening in the real world. And not just in exotic corners of the world, but right here in America, in the Great Lakes, where millions get their drinking water. Rio Tinto has from the beginning played out the role of the big bad mining company in its plans to mine nickel and copper in Michigan's Upper Peninsula. The project has been marred by a flawed approval process, with one expert hired by the state insisting the project could collapse on workers. Despite unresponsive regulators and politicians, a persistent grassroots movement has stalled the company plans by years already.

This seven-year battle between Rio Tinto and local citizens came to a head when I was arrested a couple weeks ago for "trespassing" on land the company wants to mine for nickel, copper and other precious metals. I was doing what I've been doing on a weekly basis for over a decade - walking with my dog to Migi Zii Wa Sin, or Eagle Rock, a sacred site to Anishinaabe tribes. Rio Tinto took my presence there as a threat and called local law enforcement to the scene. I was arrested and jailed for refusing to leave land the company still has no legal title to.

The important thing about my arrest is that it happened on public land

. A couple years ago, Rio Tinto signed a land use lease with the State of Michigan to build surface facilities and a portal for their mine. Under the Treaty of 1842 the Anishinaabe have retained all rights for fishing, hunting and gathering on public lands over a wide swath of land in Michigan and Wisconsin. By allowing Rio Tinto to mine a sacred site, the State of Michigan has disregarded these long-standing rights and dismissed Eagle Rock as a place of worship. Would Rio Tinto get away with blasting a mine into the floor of a Christian cathedral? I doubt it. My arrest triggered three brave members of the Keweenaw Bay Indian Community (KBIC) to act in protecting their treaty rights and sacred site. They arrived at Eagle Rock the night of April 23 in a beat-up Geo Metro to "take a stand." The courage of these women, who were the first to occupy Eagle Rock, has inspired many more men and women - both native and non-native - to gather here to protect this place.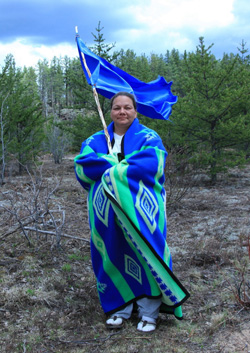 "I am here because I am a woman and we protect our sacred water," Charlotte Loonsfoot (picture to left by Chauncey Moran), a member of the Keweenaw Bay Indian Community, told me about her initial decision to occupy Eagle Rock. "It is the bloodline of Mother Earth and if we pollute her blood, we will die." "We have done ceremonies before recorded time until the Treaty of 1842 and our people's removal from our culture and our language. Our stand at Eagle Rock is not only to protect our water, but the spirit in Eagle Rock." This place, while held sacred by the Anishinaabe, is also a place that is dear to the people living in the small remote communities surrounding Eagle Rock. Locals cherish the notion that America still has remote places where no industrial lights block out the stars, no industrial noise blocks out the wind in the pines, and where people may quietly enjoy these quality public lands held in trust for them by the State of Michigan. Our state government has sold us out on this public land heritage by placing the wealth and profit of Rio Tinto over the health and welfare of the people it represents. Not only do they fail to recognize the sacred value of Eagle Rock and the rights of the Anishinaabe, they have allowed this company to proceed without federal approval while arresting citizens under absurd charges for getting in the way of Rio Tinto's plans.

Rio Tinto is working now to fence off this public land and Eagle Rock and doesn't seem to mind moving forward without legal authority from the federal government

. The Anishinaabe and their non-native supporters will not allow this to continue. We will peacefully stay here until the state recognizes our rights to public land, the sovereign rights of the Anishinaabe, and their right to their sacred land - right here at Eagle Rock.
Cynthia Pryor lives seven miles away from Rio Tinto's planned mine, near the Yellow Dog River, and has worked through the grassroots Yellow Dog Watershed Preserve since 1995. Anyone interested in keeping up on this issue can find photos and more information at the blog for the Eagle Rock occupation, standfortheland.com.
http://www.huffingtonpost.com/cynthia-pryor/a-sacred-fire-is-burning_b_567652.html