Tom Coburn: 'Apocalyptic Pain' Could Result If Spending Isn't Controlled
Tom Coburn: 'Apocalyptic Pain' Could Result If Spending Isn't Controlled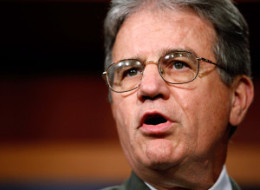 NOTE: Seems The only Americans that the hypocritical Sen. Tom Coburn expects to do all the 'sacrificing' are the ones who are already sacrificing for the filthy rich. Coburn's main objective is to make sure the rich get even richer off the backs that are already bowed. This phony is does not care about Americans. He proved that by voting against The 9/11 First Responder Bill any every other humane Bill that would help struggling Americans, Yet this unethical Corporate Owned

**Louse

fought to extend to the filthy rich The Unfunded Bush Tax Break.




**Louse (as in "insect") n. : wingless usually flattened blood-sucking insect parasitic on warm-blooded animals



Republican Sen. Tom Coburn says confidence in the country's economy and currency will be "undermined significantly" in the next several years if the government doesn't find a way to cut federal spending.

Coburn says the U.S. must begin to chip away at the country's huge debt and slash hundreds of billions from the budget in wasteful spending or face the kind of severe fiscal crisis that has plagued Ireland and Greece.

The Hill reports:

Senate Republicans' "Dr. No" spending hawk warned Sunday that America would experience "apocalyptic pain" with 15-18 percent unemployment and the "middle class destroyed" if it didn't get its fiscal house in order.

The Oklahoma Republican offered his grim view on the country's future while speaking on "Fox News Sunday."

Coburn says all Americans must make sacrifices to secure the country's fiscal future. He says he could find more than $300 billion a year in spending that could be cut without objection from the American people.